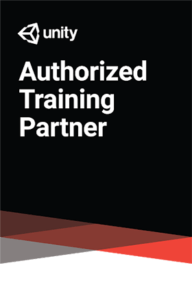 Force7 offers Unity authorized training workshops in virtual reality, game development, automotive design, exam preparation and many other specializations. Learn new skills and take your career to the next level by enrolling in one of our engaging workshops with a live Unity instructor. To see our online workshop schedule and to enroll, please email us at info@force7training.com.
What is Unity? Unity is a cross-platform game engine developed by Unity Technologies, a Copenhagen company founded in 2004 with U.S. offices based in San Francisco, CA. As of 2018, the engine has been extended to support more than 25 platforms. It can be used to create three-dimensional, two-dimensional, virtual reality, and augmented reality games, as well as simulations and other experiences. The engine has been adopted by industries including video gaming, film, automotive, architecture, engineering, and construction.
Advance Your Career with a Unity Certification
Unity is one of the most in-demand tech skills and has one of the highest forecasted growth rates, growing at more than 57 percent over the next five years according to Burning Glass, December 2018. Force7 is a Unity Authorized Training Partner (ATP) and offers six Unity certifications which include:
For job seekers, a Unity certification makes you stand out from the crowd and demonstrates to employers that you have the technical skills and knowledge they need. For hiring managers, a Unity certification makes it easier to sort through applications to find the right candidate that is a better fit for the open position. Contact your Force7 sales consultant to learn more about our Unity certification course schedule, exam testing, pricing and how to enroll at 719-298-4047 or info@force7training.com.