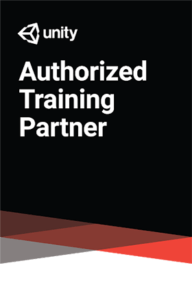 The professional Unity software developer program trains individuals in tech to become career-ready software engineers. Force7 has partnered with GameDevHQ who has spent years perfecting a program that is unique compared to any other school or bootcamp – a program that creates workforce-ready developers that are capable of creating content both in and beyond gaming using Unity.
The curriculum begins with understanding the fundamentals of C# and Unity. As the student, you will be taught the concepts and will then be assigned challenges that require you to think like a software engineer.
By the end of this program, you will become confident and employed Professional Unity Developer. You will be permanently removed from tutorial purgatory and motivated to continue learning and completing projects. You will have a portfolio of 7 projects that are completely documented so employers can see your growth, your passion, and your skills on display.
If you are interested in learning more about this program, contact a Force7 sales consultant at 719-298-4047 or info@force7training.com to get more details.