Force7 understands the needs and requirements of medium, large and enterprise companies and we offer a range of training venues and professional services to accelerate learning. We can help Department Heads and Human Resources deliver technology and business training to equip your staff with the tools they need to maximize their skillset. Whether it be in project management certification, IT networking, Business Continuity, Agile and Scrum or anything else, we can deliver what you need on time!
Private Group Training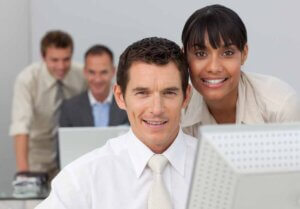 We offer private group training for 5 or more individuals based upon the technology required. If you would like to use your own onsite classroom facilities with our live instructor, we can provide an excellent classroom experience.  If you need to go offsite near your office, we also deliver training across the USA in hotels that can accommodate your staff for effective local training. Do you want to travel to Colorado Springs for training? We can train your group in our classroom facilities with beautiful views of the Pikes Peak Rocky Mountain region nearby. Ask us for a quote by emailing us directly at info@force7training.com and we can provide it within 24 hours.
Virtual Classes
If you do not need a classroom environment and enjoy learning online with a live instructor, you can enroll one or more individuals in our virtual online classes. We add virtual classes to our schedule based on demand on a regular basis so if you do not see what you are looking for, we may be able to add a new class for you. See our Schedule on our home page for a full list of classes.
Unity Software Engineering
Force7 is proud to provide Interactive and Simulation Design development using Unity and other development platforms. We work with a team of highly qualified Unity developers and offer expertise in gaming technology for corporate, education, military and government projects. Force7 will assess the development project, understand your objectives and outline a development solution for your organization to review, approve and implement. Unity technology offers new tools and capabilities which helps with budgetary costs for training employees in a timely manner. Force7 is a Unity Authorized Training Partner (APT) for Unity training as well and can provide training and software development in these selected industries:
Automobile and Manufacturing
Television and film production
Medical and scientific simulation
Engineering
Forensics and law
Architecture and landscaping
Game/simulation technology
General Technology
If you would like a pre-consultation phone call or need a quote, please contact us directly at 719-298-4047 or email us at info@force7training.com. We would be happy to discuss your project and provide a cost-effective solution for you.