By Ian Callahan, November 7, 2022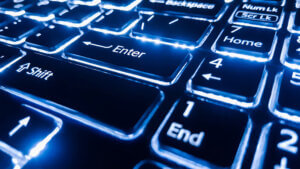 In an increasingly connected digital world, cyberattacks and hacking are ever-present realities. For those working in information technology (IT), a cybersecurity certification is an excellent way to build practical knowledge of how to protect against security threats.
Top-rated credentials are also conducive to job mobility and maintaining your organization's reputation. Earning a reputable cybersecurity certification requires an investment, as we outline on this page—but it can pay off as well.
What is a Cybersecurity Certification, and Why Pursue One?
Cybersecurity certifications verify that you have extensive, demonstrated knowledge of issues like hacking and cyberattacks. Certification also shows that you understand the best practices and strategies for maintaining organizational privacy and security.
Through earning certifications, IT professionals benefit from detailed training modules and exam prep materials. Along with expertise, cybersecurity certifications can bring credibility to employees' organizations.
If you're just starting out and wondering how to get into cybersecurity, entry-level certifications are a great place to begin. Likewise, if you're seeking a more advanced role with a higher cybersecurity salary, certifications can help you meet that goal by bolstering your cybersecurity resume.
How Long Does a Cybersecurity Certification Take?
Certification programs vary in terms of training and exam duration. Some certification providers offer multi-day or multi-part modules that can be completed in person, online or in a hybrid format. Many certifications do not require training or coursework, but candidates are encouraged to prepare on their own time.
The Best Cybersecurity Certifications
CompTIA Security+
Recognized as a leading global certification, CompTIA Security+ is a basic, essential credential that validates core skills for cybersecurity professionals. This designation is considered a stepping stone to mid-level roles and satisfies the DoD 8570 compliance.
Students learn to navigate issues via real-world examples and will gain technical expertise in architecture and design, implementation, operations and incident response, governance, compliance and more.
Exam fee. $392
Time to completion. The exam is 90 minutes long and available both in person and online via Pearson VUE. Candidates who take CompTIA's CertMaster Learn training course must complete 40 to 50 hours of self-paced materials.
Professionals who may benefit. Network and cloud engineers, IT project managers, security administrators, IT auditors, security engineers and analysts
Microsoft Certified: Security, Compliance, and Identity Fundamentals
This certification is a great option for individuals seeking a comprehensive understanding of Microsoft's Security Compliance and Identity (SCI) solutions. It's recommended that prospective students be familiar with Microsoft Azure and Microsoft 365. They should also have a background in network and/or cloud computing or IT.
Exam fee. $99
Time to completion. The exam has a 45-minute completion window. Preparation times vary. Microsoft offers two options for exam preparation: a free, four-part learning path series, which walks through exam essentials at your own pace, and a fee-based (approximately $600), six-hour virtual session facilitated by an instructor.
Professionals who may benefit. IT professionals seeking new credentials, cybersecurity students looking to complement their studies and anyone interested in Microsoft's SCI solutions
Certified Information Systems Security Professional (CISSP)
This intermediate-level certification is offered by (ISC)2 and is highly ranked in the cybersecurity field. The credential serves professionals seeking knowledge of security design, implementation and management. Prospective CISSPs should have at least five years of experience to qualify for the exam. Individuals with less experience may pursue the Associate of (ISC)2 certification.
The four-hour exam contains between 125 and 175 questions. (ISC)2 offers multiple formats for exam preparation, including classroom-based training, online sessions led by instructors, online self-paced modules and private training.
Exam fee. $749
Time to completion. CISSP candidates must have at least five years of experience before taking the exam. A four-year degree satisfies one year of this required experience. The exam itself lasts four hours.
Professionals who may benefit. C-level executives and directors of information security; security systems engineers and analysts; security managers, architects, auditors and consultants
Certified Information Security Manager (CISM)®
Ideal for security professionals looking to advance into manager-level positions, this ISACA certification provides tactical knowledge related to information security governance, risk and incident management and program development. In addition to passing the exam, CISM candidates must demonstrate full-time industry experience and complete an application.
Exam fee. $575 for ISACA members, $760 for nonmembers
Time to Completion. Candidates must have completed five years of full-time security management work experience. The exam itself is four hours. Exam preparation times vary.
Professionals who may benefit. Mid-level information security professionals seeking managerial roles
Certified Information Systems Auditor (CISA)®
Professionals in mid- and entry-level cybersecurity jobs can benefit from this certification, which covers five domains: information systems auditing process; governance and management of IT; information systems acquisition, development and implementation; information systems operations and business reliance; and protection of information assets. Like the CISM certification, candidates must pass the exam and apply for certification with appropriate industry credentials.
Exam fee. $575 for ISACA members, $760 for nonmembers
Time to Completion. The four-hour exam comprises 150 multiple-choice questions. Candidates must have at least five years of professional experience in information systems auditing, control or security.
Professionals who may benefit. Information technology and information security professionals in auditing, control and assurance roles
GIAC Security Essentials Certification (GSEC)
This entry-level credential is a great cybersecurity certification for beginners. The designation moves practitioners beyond basic knowledge, equipping them with the tactical skills to occupy IT systems roles that navigate active defense, cryptography, defensible network architecture, security policy and web security.
Exam fee. $949 (includes exam and two practice tests)
Time to completion. The exam, which requires proctoring via ProctorU or Pearson VUE, lasts four to five hours and comprises 106 to 180 questions. Preparation time varies.
Professionals who may benefit. New and established information security professionals in managerial, operations, engineering, supervisory, administrative, analytical and auditing roles
Certified Ethical Hacker (CEH)®
A CEH certification provides cutting-edge training on the most current trends in hacking for security professionals. Presented in a gamified format, the CEH v12 course includes 20 modules covering everything from the basics of ethical hacking to solving real-world hacking challenges across platforms, systems and networks. Prospective CEHs may skip the training and apply for eligibility to take the certification exam.
Exam fee. $950 to $1,199 depending on exam delivery format
Time to completion. The CEH exam lasts four hours. The EC-Council training costs $850 and takes five days to complete. Experienced candidates with at least two years of relevant work experience can apply to take the exam without attending training.
Professionals who may benefit. Information security analysts, administrators, managers, engineers, auditors, officers and administrators
Logical Operations CyberSec First Responder (CFR-410)®
This certification is ideal for security professionals who defend organizations against hackers. With a hands-on approach to mitigating cyberattacks, the CFR program is designed for professionals with an established, working command of IT and cybersecurity issues. The certification exam is issued in person or online via Pearson VUE. Interested candidates do not need to submit eligibility verification, documentation or application fees.
Cost. $350
Time to completion. The exam contains 80 multiple-choice questions and lasts120 minutes. Preparation time varies, but candidates may take a five-day training available at Logical Operations' online store. This certification is recommended for professionals with at least two years of relevant experience.
Professionals who may benefit. IT professionals with experience in cybersecurity who are familiar with risk management, vulnerability assessments, organizational policies on cybersecurity and incident response processes.
Reprinted from Forbes Advisor at Find The Best Cybersecurity Certifications For You – Forbes Advisor.